November 1st, 2017
Plenty of events happening
Owhiwa Landcare trapping workshop Sunday November 5 – see http://www.kiwicoast.org.nz/  for details.
Parua Bay School Great Kiwi Morning Tea November 9.
Tutukaka LC Kiwi release Friday 17 November at 6pm – see http://www.kiwicoast.org.nz/  for details.
Weed Action Whangarei Heads hosting a BBQ at McLeods Bay Hall Friday December 8  – all local Landcare groups invited more details to come.
Book Launch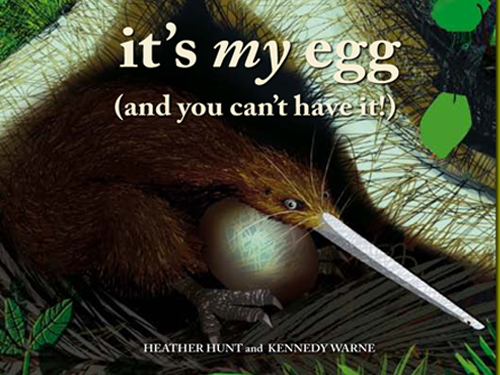 "it's my egg (and you can't have it!)"  by Heather Hunt and Kennedy Warne (NZ GEOGRAPHIC)
This picture book takes its inspiration from one of the plethora of community based pest control initiatives currently mushrooming throughout Northland.
"It's my egg" tells the story of community and kiwi in the 21st century and the pet and pest control challenges communities face living alongside wild kiwi.
Set in the heart of the Whangarei Heads, the story is based on one of Backyard Kiwi's champion monitored kiwi.  The story, told with a simple engaging narrative and stunning illustrations combines to give a unique insight into a the dangers faced by wild kiwi dads and a community's effort to support kiwi recovery.
See you at 4pm on Sunday 26th November McLeod Bay Hall – don't miss it!
Backyard Kiwi Predator Control Programme:
Catches for September  in the predator traps:
Stoats 2, Weasels 5, Cats 0, Rats 43, Hedgehogs 8 and 9 possums.
If you have any rabbits in the freezer for me please give me a yell – I'm running short.
Controlled 1080 pulse in bait stations
Looks like reasonable bait take from the pulse on Manaia, should tidy up the possums, give the rats a good knock but most importantly clean out the lure and trap shy stoats. 2017-2018 should be a bumper season for our bird populations.
Kiwi happenings
The chicks continue to hatch and some dads have started their second round of nesting. Elizabeth Gadd found a kiwi egg in her back garden at Reotahi.  It was from a very old failed nest but shows that not only are their kiwi in our backyards they are nesting in our gardens too!
What your radio tracked Backyard Kiwi have been up to:
Darwin – At the Lamb road quarry. Has finished his nest there after a 85 day stint hatching two chicks. The older chick stayed in and around the nest for at least 26 days which is longer than usual.
Lambert – Usual area at Taurikura Ridge. He has re-nested but his activity may be a bit high at 8.5 hours per night at day 13 – time will tell.
Whitu – Re-nested near the Reotahi freezing works. Hatch due late November.
EB – His 6 month check is due but he is proving elusive in the pampas at Kerr road. Adam gave me a hand but EB just kept sneaking off.
Tindall – Haven't managed to get a signal from him this month. I will have a decent look for him.
Pakipaki – In the pampas below the Manaia Club- near the emergency helicopter pad. Activity of 10 hours.
Dudin – Still in the horse paddock opposite the fire station.  Activity 11 hours.
ONE program (funded by Kiwis for Kiwi):
The ONE dads at Rarewarewa have had an excellent first round of nesting with 11 chicks from 6 nests and in a good tight nesting pattern (as the farmers would say).
The Acrobat – Usual area in Lovell's fenced bush. Still not nesting. Activity 10.5 hrs.
Waimarie – Hatched two chicks: LC1704 transferred to Limestone Island 13/10/17, LC1705 transferred 19/10/17
Ngutu Roa – Hatched two chicks:  LC1702 transferred 4/10/17, LC1703 transferred 19/10/17.
Sancho – Hatched two chicks, NW reserve,  LC1707 and 1708 transferred 19/10/17
CFU – Hatched two chicks missed first chick initially but he returned to burrow when re-checked  a week later.  LC1706 and LC1709 (older chick) transferred 19/10/1
Ray – Hatched two chicks LC1710 and LC1711 transferred 27/10/17. BMs done 2000g in weight and Mod condition but doing well after 90 days nesting (photo of nest attached)
The Boxer – usual area W end of reserve. Activity now 10.5 hours after nesting
Other happenings
BYK committee meeting on 18 October was very productive with plans for the near future including a series of short videos well underway. We are also planning some new signage.
Cheers
Todd Hamilton
Backyard Kiwi Project Manager
Whangarei Heads Landcare Forum