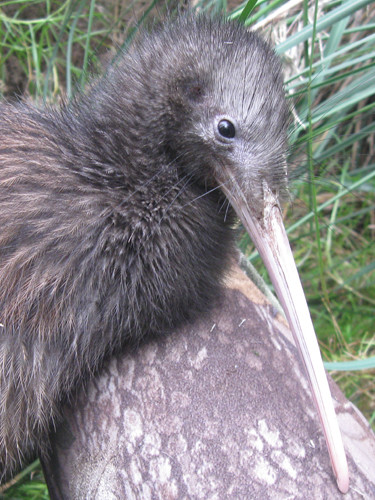 Dudin was released at Leahy's property in McLeod Bay on 12 February 2017 and seen on his way by a crowd of over 400 locals and guests. He weighed 1700g and his bill was 104mm long. As a young male (16 months old) he was radio transmittered to follow his progress at the Heads. Dudin was named by Leahys, who are the current landowners of the farm at McLeod Bay, in honour of the long time previous owners of the property the Dudins.
2017 June July
He has moved south again and is now in the horse paddock opposite the fire station.  Activity 12 hours
May 2017
Time for his 3 monthly transmitter band check – he is still growing so we check young kiwi more often than the usual 6 month check for adult kiwi. He was deep in the pampas and gorse north of the rock pah. He now has a new transmitter band. He was a healthy 1875g and his bill had grown to 110.0mm. Activity 11 hours.
2017 April
At the Northern end of McLeod's in rank kikuya and pampas there. Activity 12 hours.
2017 March
He just north of the stone pah, activity is 11.5 hours.