April 9th, 2021
Heaps of events coming up:
FOMLI whakawatea and meet a kiwi – Saturday April 10 @ 11am. Onerahi Yacht Club ramp
Tutukaka Landcare Kiwi release- Saturday April 10 @ 4.30pm. Tutukaka Coast –see Kiwi Coast website for details
Taheke Landcare Kiwi release – Saturday April 17 Pataua North road –see Kiwi Coast website
NRC WH Possum Eradication – Public information evening April 21 @ 5.30pm McLeod Bay Hall
DoC PF2050 planning workshop – April 27 (see attached invite)
Rural Delivery TV program featuring Kiwi Coast and Backyard Kiwi – Saturday May 8 @ 7am or on demand
WHLF AGM – coming up in May – will notify date
Kiwi Counting – May 29-June18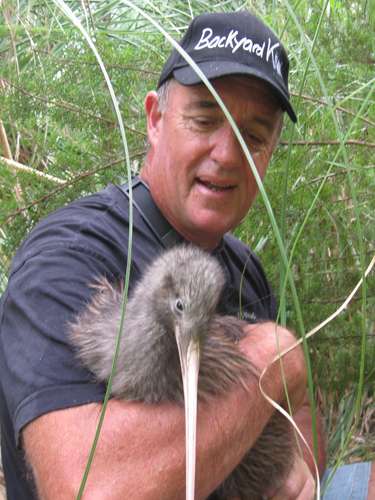 Malaika and Kerry

 
Invitation- Predator 2059

 Kiwi Counting 
Each year we work hard to estimate our kiwi population to see if our stoat and dog control at the Heads is working.  We use around 20 fixed listening sites and dedicated kiwi call counters to assess the number of kiwi calls, and more importantly the number of kiwi at each site.  We do this in the autumn/early winter because in theory this is the breeding season when kiwi call to their mates in their breeding territories.  Over the past 20 years this method has shown our kiwi population has grown from around 80 to over 900 – so things have definitely been working!  The kiwi calls have levelled off in the past two years; possibly because of the successive droughts delaying and reducing the breeding season (indicated by the radio monitored kiwi) or we may be getting to our carrying capacity with kiwi walking north out of the Heads to find more territory (which would be great!).  Hopefully we have some decent rain before our call counting this year and we will get a more accurate, up to date estimation of the kiwi population.
If you are one of our kiwi call counters you will be getting the usual updated instructional email in the next month.  We could do with a few more kiwi listeners – if you are keen, reliable, patient (sitting in the cold for 4 cold 2 hour evening sessions is harder than many think), good at recording data, have excellent hearing and good directional sense please let me know (I'm serious about the skills needed – especially the reliability and hearing bit!).
Last year Kiwi Coast developed an app for cell phones to record the call data in real time – it proved to be very effective. I will organise an evening for a refresher/training evening sometime in May for our call counters.  If possible we will include a training session on the Kiwi Coast app too.
Released Kiwi
The kiwi released at Parua Bay back in February have settled in well and apart from a couple of exploratory wanders are still all in the release area (Martin's pine/bush property between Owhiwa and Taraunui Roads) :
Chookie – This is the adult male and he has stayed very close to his release area apart from one brief climb out of the valley up to the side of Owhiwa road before returning.  His nightly activity is 10 hours.
Aroha – The adult female released with Chookie. She spent some time hanging with Chookie before heading 500m south and settling in the pines there. She has now dropped her temporary radio transmitter.
Matarae- – She has moved short distances up and down the valley checking things out but remains near her release area. Nightly activity of 11 hours.
Valentine – Has wandered over towards Ross road – she may be hearing Beach Girl or Teina's calls as she is roughly half way between the two. Nightly activity of 11 hours.
Cook- This girl has been the exception and has gone for a wander of several kms.  She went up and over to Kohinui Valley and north to the top of Te Rongo road before I lost contact with her for a week. She did a good job of dragging me around the wider area looking for her – the upside was meeting plenty more keen locals loving having kiwi back in their backyards. It was very pleasing to see how switched on folks are to the need for good dog control if they want kiwi in their area. After over a week I tried listening for her signal at her original release site – and there she was, these kiwi have a great natural GPS!
Backyard Kiwi Predator Control Program :
Catches for March – very quiet stoat wise but a big increase in rat catches : 0 stoat, 3 weasels, 2 cat, 101 rats, 19 hedgehogs, 10 possums.
What your kiwi have been up to:
They will be loving the cooler and slightly damper conditions and with night length increase will be making the most feeding up as a big breeding season hopefully approaches.
Whangarei Heads radio tracked Kiwi.
Ross – Still in the valley at the top of Pepi Road.  11 hours nightly activity. Cook must have been in calling distance of him during her recent travels but they didn't match up.
Teina – The story of his recent rock incubating stunt got plenty of publicity including a good story in the Advocate. He is now back up to a normal high activity of 11 hours per night.
Malaika –  Kerry and I caught up with her in the pampas at his place for her radio transmitter change. She has grown to 2200g and 133.8mm bill length so is still growing at 3 years old. It will be interesting to see if she stays settled in the area or heads off on another one of her big walks through the Kiwi Link area. (see picture above).
Beach Girl – Still NW of Ross Road, nightly activity of 10.5 hours. Now that the nearby logging is winding up she may settle down again.
Wally – He is feeding up in the rushes on the Pataua estuary edge after his double nesting efforts. 11.5 hours activity.
Harikoa – In her usual area of wetland/pines at the NE end of Campbell Road. 12.5 hours activity.
Pakipaki – In the pampas in the Horse paddock McLeod Bay. She has come close to the Fire Station lately – she may be checking out the major earthworks there? 10.5 hours activity.
Rarewarewa/Purua- ONE Dads
10 chicks transferred to date.
Nick – Feeding up after nested in Lovells Bush area. 10.5 hours activity.
Moeahu – Still at NE end of reserve – still no sign of nesting. 11 hours activity.
Sancho – Usual area- NE reserve area. 11 hours nightly activity.
Kimposter – His transmitter became faulty, it was giving a mortality signal with no data stream and switched off when he moved – making him very tricky to catch in the rank kikuya in the corner of the reserve above the quarry.   2400g, G condition and now has a new transmitter.  ? hrs nightly activity.
Ngutu roa – Usual area SW reserve. 11 hours activity.
Ngaro –  -Usual area above the air strip. 11 hours activity.   .
Moondust  – In small area of raupo on reserve boundary behind Irvine Road wool shed. 10.5 hours activity.
Gorgeous – He was in his pampas bush in Hawkin's paddock.  Did his annual transmitter change: 2450g, G condition. He was cuddled up with a female in pampas too but she was not handled
Bill – no signal – will have a better search next visit.
Cliff – no signal – will have a better search next visit .
Namakia – In logged area. 10.5 hours activity.
Cheers Todd
Backyard Kiwi Project Manager
Whangarei Heads Landcare Forum
M 021 1145 385
E  todd.hamilton64@gmail.com