August 5th, 2020
Todd says  Please don't let your Dog be a Kiwi Killer!!!  
We have worked hard as a community on the successful recovery of our kiwi population so please those of us that are dog owners need to keep on controlling our dogs. That means that they are fenced in or tied up when not under our control and please walk them on a lead!  Thank you to all those being responsible dog owners!  Unfortunately recently a few dog owners haven't been looking after their dogs and there have been uncontrolled dogs wandering in some areas. One of the recently rescued kiwi (Ngaehe- see his story below) was killed by an uncontrolled dog which is very disappointing when others have shown faith in us by letting him be released here. Kiwi smell more like a dog than a bird and are very attractive to all dogs, they have weak chests and a gentle squeeze by a dog is usually fatal. Ngaehe had a couple of small bruise marks from the dog's teeth where it had mouthed him
The Kiwi Count for 2020 is in:
Thank you to the kiwi counters for all their hard work braving the cold, listening hard and doing the paperwork.  Thanks also to Fay Clayton for all the data entry that she does.
It was another tough year for kiwi breeding and for kiwi call counting. It was the driest season on record for the Whangarei Heads meaning kiwi breeding and the associated spike in calling was later and lower than usual (as was also the case in 2019). This combined with the first listening window being earlier than usual (due to moon phases) meant low call counts in the earlier period.  The noise from the strong easterly surf made listening particularly hard for those near the coast. These conditions mean our kiwi count numbers are probably fairly conservative- better to underestimate than over.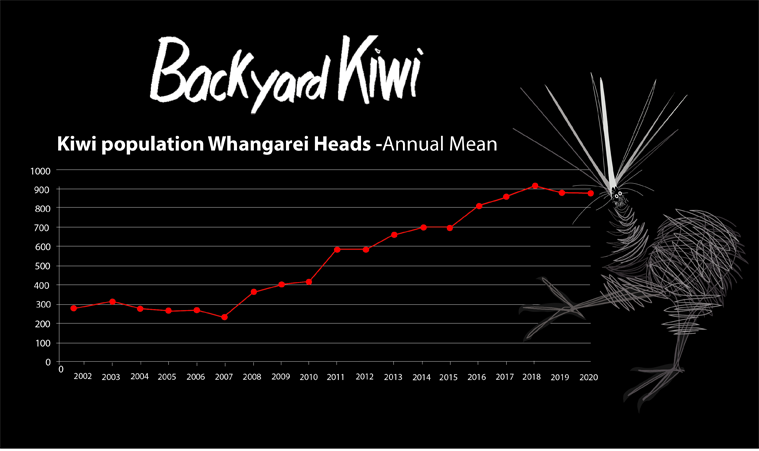 Overall the listening gave an approximate kiwi population of 885 compared with 800 last season and 80 back in 2001. 
This is how we get that estimate:
19 of our 21 sites at the Whangarei Heads were listened at. The number of individual kiwi counted was 177 males and 92 females compared with 160 males and 76 females in 2019  (Kiwi listening does not pick up all the female kiwi because they call less often and are harder to hear due to a deeper call note than the high pitched males).
Using our usual simple model of 40% of habitat covered by listening stations and assuming 1:1 sex ratio that comes out at: 177 males  X 2 X  2.5 = 885 approximate estimated adult population.
Prior to 2019 our population had been growing at up to 10% a year with a population of 915 estimated in 2018.  2019 was a poor year for kiwi calls throughout Northland because of the dry conditions and with 2020 being even drier it is great to see that our call counts have bounced back close to 2018 levels despite the drought.  Two dry years in succession will probably mean fewer chicks have been hatched and fewer making adulthood over the next few years so it is good that our adult kiwi population has got to a healthy size to provide some resilience in the long term.  Remember that if adult kiwi don't run into a dog or a car they breed for 50 years so the odd bad breeding year is not a show stopper for healthy populations. There are also more kiwi showing up north of the Heads in the "Kiwi Link" area, many of these will be kiwi walking out of the Heads and finding new territories – this is great news for wider kiwi recovery!
For more details click on these links in the Annual Kiwi Call Count section
Summary of this year's listening for each station giving M and F calls, and the actual number of M and F kiwi estimated at each site by using the directional sheets. 
Summary of average call counts for all sites from 2002 to 2020.
Kiwi run over
Unfortunately a young male kiwi was run over in the hot spot north of McLeod Bay where our "Kiwi Crossing" was stolen from.  He was wild hatched and had survived to the stoat proof size of 1400g (thanks to our stoat control) and was probably on the move north looking for new territory.   Kiwi rely heavily on their sense of smell and hearing so are not the best at dealing with fast moving cars so please keep an eye out for them. And no that doesn't mean our estimated population is now 884 as our estimate is based on calling adults – this young fella wasn't up to calling yet, that takes 2-3 years. A sad loss all the same.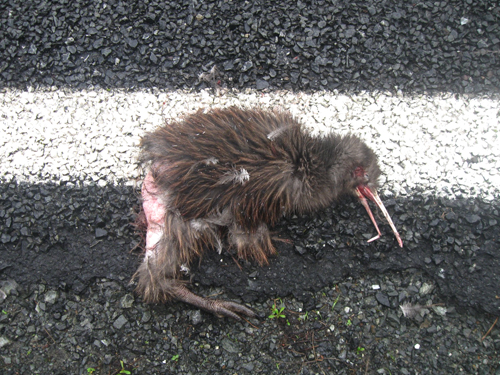 Road kill kiwi
Slip near Ross's territory
Flooding
After all the drought conditions we got more rain than we were hoping for! The recent flooding hammered our trapping network, particularly on the town side of Parua Bay where the rain was centred.  I'm working through the trap lines salvaging traps and replacing lost ones. If you find any traps or boxes floating around please let me know.
The worst of the rain came after dark so the kiwi were up and about which may have saved a few. It took a couple of days to track down all the transmitted kiwi but they have all turned up safe and sound.  Not surprisingly those down low had headed for higher ground with birds like Ross climbing significant distances out of his usual territory. See attached pic of the slip in his usual area. The two nesting dads had both picked spots that didn't flood – not sure if that is good luck or smart nesting.
Predator Free funding for possum eradication project
If you missed the recent workshop and NRC open day at the McLeod Bay hall on Sunday on the proposed possum eradication project for the Heads and would like to have input contact the NRC.
For more information visit: www.nrc.govt.nz/pfwhangarei
or contact Ripley Dean: pfwhangarei@nrc.govt.nz
Backyard Kiwi Predator Control Program :
Catches have dropped right off as is expected for this time of year.  If you or your group do rat control at your place this is a good time to do a toxin pulse with rat numbers low and vulnerable and bird nesting coming up. A careful brodificum pulse will also deal to any trap shy stoats.
July catches: 0 stoats, 0 weasels, 1 cat, 61 rats, 7 hedgehogs and 4 possums.  I will continue with eggs as the lure and a stretched out round of 5-6 weeks for the winter.
What your radio tracked Backyard Kiwi have been up to:
Whangarei Heads
The flooding gave the kiwi a bit of a shakeup, particularly those in the Parua Bay area. All now found alive and ok. Whitu and Wally began nesting just before the flooding but seem to be holding ok.
Ross – His territory at Pepi Road was one of the worst hit areas with slips and flooding and he took a few days to find. He has sensibly moved inland to higher ground, this may be the change he needs to find a girl. 13 hours nightly activity.
Hancock -Her transmitter was showing very low activity (40 mins per night) after the flooding so I gave her a very quick handle to check her and she was fine and has since been moving 500m or more each night between Kohinui Valley and Kerry Martin's pine block either side of Owhiwa Road.
Teina – Still settled in Owhiwa Road pine block.  12 hours nightly activity.
Malaika – Has been bouncing around since the flooding in Owhiwa road pine block. 11 hours activity. Kerry Martin gave me a hand to do her transmitter band change in the pampas on his pine block – she was in good condition and has grown to 2100g and bill of 125.7mm (cf 1850g and 119mm back in January). She is coming up on 3 years old so has some more growing to do yet.
Beach Girl – She has moved out of her wetland area after the flooding to higher ground on the Plants' place. 11.5 hours activity.
Awhi – In a similar spot to the last few months on the edge of the estuary at the end of Campbell Road. 12 hours activity.
Wally – Nesting! – 6 days in on 20/7/20, activity 5.5 hours. In the pampas area he has previously used for nesting.
Harikoa – In usual area of wetland/pines at the NE end of Campbell Road. 11.5 hours activity.
Pakipaki – Usual area in pampas/pines in the McLeod Bay Horse Paddock. 11 hours activity.
Whitu –  Nesting!! 11 days in on 21/7/20, east of the freezing works, 4.5 hours activity. See the attached pic of his nest in a fallen epiphyte. When you are out and about please be careful where you stand – kiwi in "burrows" like these are common at the Heads and can be easily hurt or disturbed.
Rarewarewa/Purua (ONE dads funded by Kiwis for Kiwi and Kiwi Coast)
Nesting is still running late with only Gorgeous and possible Kimposter nesting.
Nick – Usual area in Lovells' Bush, 12 hours nightly activity.
Moeahu – Near the peak above the quarry. 11.5 hours nightly activity.
Sancho – In rank kikuyu grass in the paddock north of quarry. 11.5 hours activity.
Kimposter – In the "impossible" tree. His data stream shows a change from nesting to non-nesting but his activity is still lowish at 7 hours so he may be two-teaming nesting as he has in the past in the same spot (He has shown very unusual nesting behaviour in the past by sharing nesting work with another male – Kim- hence his name).
Ngutu roa -Usual area SW reserve. 12.5 hours nightly activity.
Ngaro – Usual area above the airstrip, 12 hours activity.
 007 – Up gut behind Irvine Road wool shed. 9 hours activity.
Gorgeous -Nesting 7 days on 15/7/20, 4.5 hours activity. NE of Lambert Road
Christmas Do
I know that it is early to be thinking of Xmas but Weed Action are hosting the annual BBQ this year, and being well organised have asked that we book in December 4th before things get too busy – more details later. It is always a bloody good do and a good catch up and celebration of all the local Landcare groups' work for the year
Cheers Todd