During the Annual Kiwi Call Count, kiwi calls are recorded and collated giving us useful data on the local kiwi population.
Every year, hundreds of volunteers throughout New Zealand brave the chilly nights of autumn, sit in the dark, and listen for kiwi calls. They must listen at these 'stations' for 2 hours each night, for a total of four nights during the annual kiwi call count. This usually occurs during May or June, depending on when the dark phase of the moon takes place at the peak of the kiwi mating season.
Listening stations are assigned and are revisited every year, in order to document differences in the number of calls that are heard from year to year.
2020 – Overall the listening gave an approximate kiwi population of 885 compared with 800 last season and 80 back in 2001. 
It was another tough year for kiwi breeding and for kiwi call counting. It was the driest season on record for the Whangarei Heads meaning kiwi breeding and the associated spike in calling was later and lower than usual (as was also the case in 2019). This combined with the first listening window being earlier than usual (due to moon phases) meant low call counts in the earlier period.  The noise from the strong easterly surf made listening particularly hard for those near the coast. These conditions mean our kiwi count numbers are probably fairly conservative- better to underestimate than over.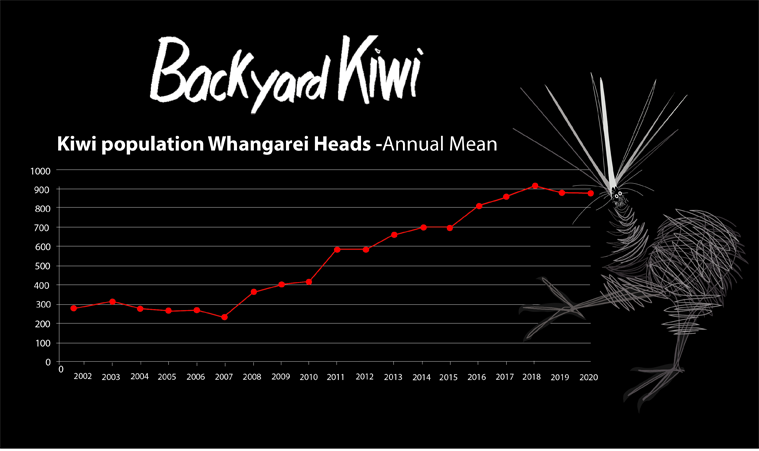 Summary of this year's listening for each station giving M and F calls, and the actual number of M and F kiwi estimated at each site by using the directional sheets.

See how call numbers have steadily increased over the past 17 years of monitoring

If you've got good hearing and a bit of patience and don't mind the cold – this could be just the job for you!
Contact us at info@backyardkiwi.org for details.