February 8th, 2022
Pleasing to see the good dog control continue

Most of our visitors with dogs have continued to show good control of their pets. Thanks to those of you who have given the visitors a gentle (and in a couple of cases a not so gentle reminder when required) of the need for a lead.
Whangarei Predator Free Possum program
Welcome to Sam Johnson who has joined the NRC team as manager of the Predator Free work. We had a PF Operations Advisory Group meeting last week and had an update on the progress with the trapping and bait station infrastructure installation for possum removal at the Heads.  The first area (Bream Head/Ocean Beach) should be working by mid-March all going well. Ahead of the traps going live trail cameras have been used to check on possum numbers, the good news is the high number of kiwi turning up on these cameras reinforcing the data from our kiwi call counts – showing a healthy population, including in a couple of cases of kiwi pairs seen working on increasing that population!
Backyard Kiwi Predator Control Program:
Still a few young stoats turning up in the predator traps, particularly at the north and south ends of the peninsula. The recent controlled kiwi saver (1080) pulse on Manaia cleaned out all the resident stoats there . Also have had a few calls from locals with stoat sightings as they disperse – thanks.
January catches: Stoats 3, Weasels 0, Cat 0, Rats 48, Hedgehogs 10, Possums 1.
What your kiwi have been up to:
Ticking along nicely and the recent rain will really help them put on condition. The previous 3 month dry had slowed the second round of nesting significantly but nothing like the previous year's drought that stressed kiwi out. I haven't had to do any rescues of pond stranded or dehydrated kiwi this season. Chick survival is also likely to be better with the better feeding conditions.
 Whangarei Heads Radio monitored kiwi: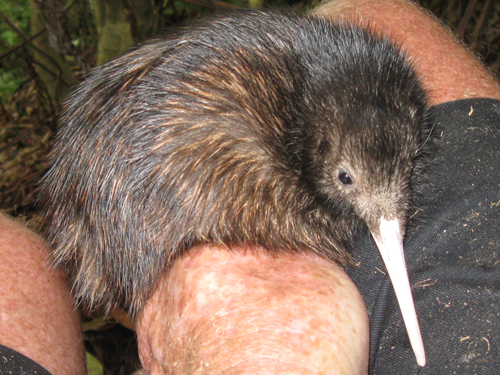 Wally's chick named Kim
Chookie– In the pampas and young pines between Owhiwa road and Martins' hut. Didn't take long to recover from his successful nest as he started nesting again on 17/1/22 but after only 8 days his activity increased and he moved off. Activity is now 9.5 hours.
Malaika– Was 100m from where Chookie nested. Nightly activity of 8 hours.
Valentine – She is still settled in a valley on the NE area of the Martins' pine block between Owhiwa and Ross Roads.   9 hours nightly activity.
Ross– Is in his usual area west of Pepi Road.  9.5 hours nightly activity. Pepi has remained in a similar area to Ross and with 9 hours nightly activity.
Teina– Still doesn't seem to be interested in breeding. 9 hours nightly activity
Beach Girl – In the pampas and young pines at the north end of Martins' block. 9 hours nightly activity.
Wally – Campbell Road landowner David Wright named Wally's chick that hatched at his place in December "Kim" Wally is back down by the estuary edge and has a nightly activity of 9 hours, he will be feeding up big time after 6 months of continuous nesting.
Pakipaki– In the pampas and gorse in the McLeod Bay Horse Paddock, 9 hrs activity. Her and her mate being heard regularly by nearby locals
Gorgeous's chick
and her nest

Rarewarewa/Purua (These are the monitored dads that we get the chicks from for engagement releases via the Limestone Island crèche)
Nick– In his usual area in Lovells' Bush. 9 hours nightly activity.
Sancho– Had been nesting 76 days on 24/1/22, 90 minutes activity and no hatch yet. Nest is in paddock north of the quarry.
Ngutu roa – Usual area SW reserve, 9 hours activity.
Moondust– Hasn't re-nested, usual area behind woolshed  – 9 hours nightly activity.
Gorgeous – successfully hatched two chicks after a run of failed nests. Transferred 2nd chick LC2108 to Limestone on 13/1/22
Nanakia– In Lovells' fenced bush. 7.5 hours activity.
BYK kiwi release Postponed
The annual community kiwi release planned for Feb 13 has been put off until we can safely have it without spreading Covid. Sorry but better to wait.
Cheers Todd
Todd Hamilton
Backyard Kiwi Project Manager
Whangarei Heads Landcare Forum
M 021 1145 385
E  todd.hamilton64@gmail.com