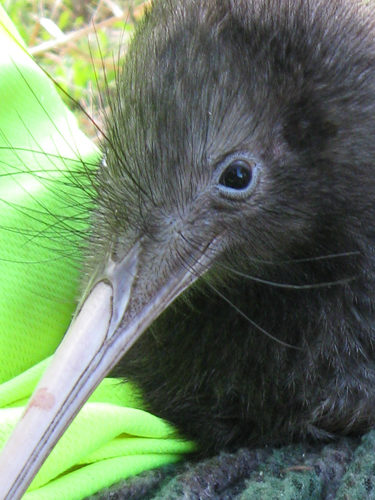 Ross introduced us to Pepi, in November 2021 Todd found Ross cuddled up in a pampas bush with another kiwi and caught it.  The kiwi did not have an ID chip so was a wild hatched and grown kiwi. The kiwi was in excellent condition, weighed 2300g and had a bill length of 104mm. Todd inserted an ID chip and put a transmitter on this new kiwi.  Was it a boy or a girl???
Adult females have bills over 120mm and boys usually well less. The kiwi could be an adult male (our suspicion) or a still growing female. We named it Pepi and kept an eye on things.  It is extremely rare for two male adults to be together so this all caused a bit of a stir in the kiwi world. 6 months later it was time for Pepi's transmitter band change and check – and he had thinned down to 2000g over the summer but more importantly his bill was still 104mm – confirming that he was a boy! !
2018- 2021
Ross was the kiwi who  introduced us to Pepi. Ross was released at Parua Bay back in March 2018. He was a star of some of the Backyard Kiwi videos and by following his radio transmitter we were able to tell the story of his exploration around Parua Bay and then further west before settling in the Pepi Road area. This is the furthest west that we have followed a released kiwi.