August 7th, 2019
Dog killed kiwi 
A landowner in the Kauri Mt/ Kerr road area found a dead kiwi on his place. It had obvious bite wounds from a dog.  The kiwi had no ID chip so was a wild hatched bird that had survived to young adulthood because of the stoat control in the area. It was 2325g in weight and a bill of 107.5mm.  Please remember that kiwi are everywhere at the Heads, not just in the bush and that any dog can smell and kill them simply by mouthing them – they don't usually savage them but it still kills them.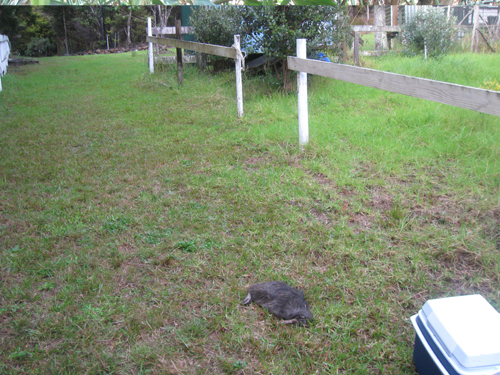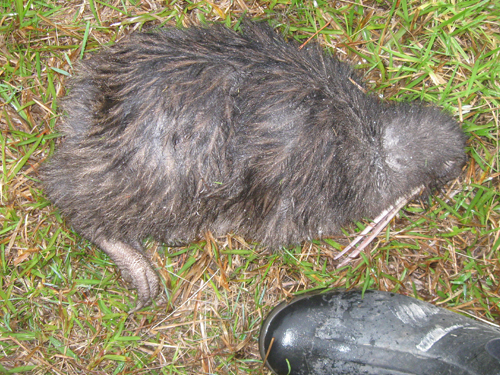 Kiwi Call Count 
All but the very last of the kiwi call count data is in from our annual call count.  It was a tough year for listening. It was the driest autumn on record for the Whangarei Heads meaning kiwi breeding and the associated spike in calling was later and lower than usual. This combined with the first listening window being earlier than usual (due to moon phases) meant unusually low call counts.
Overall the listening gave an approximate kiwi population of 800 compared with 915 last season and 80 back in 2001. It must be stressed that this reduction in population estimate is far more likely to be due to the reduced calling by the kiwi rather than a reduced number of kiwi!
The number of individual kiwi counted was 160 males and 76 females compared with 183 males and 91 females in 2018  (Kiwi listening does not pick up all the female kiwi because they call less often and are harder to hear due to a deeper call note than the high pitched males).
Using our usual simple model of 40% of habitat covered by listening stations and assuming 1:1 sex ratio that comes out at: 160 males  X 2 X  2.5 = 800 approximate estimated adult population.
Our population has been previously growing at up to 10% a year. There will come a point when this population growth levels off – but we will need to see how how future years' call counts compare before we know if we have reached that point. There are also more kiwi showing up north of the Heads in the "Kiwi Link" area, these will be kiwi walking out of our area – this is great news for wider kiwi recovery!
Looking at just the number of calls (not the individual kiwi counted) the average call count per station was well down at 5.2 calls/hour compared to 7.5 calls/hour last season. So we had far fewer calls per individual kiwi this season, according to direction sheet data. We have to go back 9 years to get a lower recorded call count! (see attached table).
Kiwi Link concept proven  
North of the Backyard Kiwi area are 10 community groups in the "Kiwi Link" area who have been working hard at trapping as more kiwi walk into their area. One of the transmitted kiwi we released back in February has made his way through the Kiwi Link to the Pataua North LC managed kiwi population. This is great news for the "Kiwi Link" initiative and also the wider Kiwi Coast because it shows that kiwi can safely move along this community driven "kiwi corridor" as suggested by Ray Pierce many years ago (see details of Pakiri below).
Predator Free funding  
Further to the  NRC proposal for increased pest control in some areas of Northland, including potentially the Heads and the area north of us for possums particularly. The NRC are currently negotiating the details of the funding with PF2050 with significant progress being made. We will keep you updated.
Backyard Kiwi Predator Control Programme :
July :   Stoats 0, Weasels 2, Cats 0, Rats 68, Hedgehogs 9 and 4 possums.
Quiet as is expected for this time of season.
What your radio tracked Backyard Kiwi have been up to:
The kiwi adults are still behind schedule for breeding because of the very dry conditions restricting feed but 2 dads have nests on the go now.:
Darwin – At Lamb road, back to his usual territory near the quarry, nightly activity is 10.5 hours with the odd lower night so he may be starting to nest.
Whitu – In the pampas above the freezing works at Reotahi. He had started nesting but after only 12 days his activity went back up to 9 hours per night and the nest failed.
Moa – Back over on Taurikura Bay side – behind houses. He has started nesting and was 33 days in on 25/7/19, averaging a good low 3 hours nightly activity. Hatch is due early September


Moa's Spring nest

.
EB – In pampas opposite houses on Kerr road. No sign of nesting with 12.5 hours activity.
Pakipaki – In the pampas and gorse in the "Horse Paddock" opposite the fire station. 11.5 hours activity.
Ross – After a short stint back down opposite the Parua Bay boat ramp he has headed back up to the top of Pepi Road. Activity steady at 12 hours.
Harikoa – Still in wetland NE end of Campbell road. 12 hours activity.
Mokopuna – Still no signal – should be close to Wally.
Wally – Nesting in the same gum tree and pampas area at the end of Campbell road as he did last year.  20 days in on 23/7/19,  activity a good low 2.5 hours, hatch due mid-September.
Recent Releases at Parua Bay
These guys are starting to go walk about – possibly as the recent rain has meant more fed for kiwi and an increase in calling to encourage younger birds to explore wider.
Teina – Did his 6 monthly health check: 2175g, 104.8mm (his bill has stop growing showing that he has reached adulthood at 4 years old) and is in good condition. In Ross's pines on Taraunui road but has starting to move around a bit more. Activity 12 hours.
Malaika – In wetland in Ross's pines, Taraunui road.  Activity is 11 hours.
Pakiri –  After moving up and down Ross Road he has headed NE and I lost contact with him. Carl from Pataua North LC checked their area for me and got a signal from him – he is in the pampas and pines north of Waiparera road (down the end of Taraunui Road).  This is great news for the "Kiwi Link" initiative and also the wider Kiwi Coast because it shows that kiwi can safely move along this community driven "kiwi corridor" as suggested by Ray Pierce many years ago.
Awhi – She is mainly in the Ross's pines on Taraunui Road but is moving around a bit (she has already shown that she is capable of heading west to Kohinui Valley – up from the pub and back to the Parua Bay village area so she is keeping me busy).
ONE program (funded by Kiwis for Kiwi):
Rewarewa
No nesting yet but they must start soon!.
Ngutu Roa – 11 hours activity, usual area SW end of reserve.
Sancho – His data stream shows a short burst of low activity but if it was nesting it has failed because his signal was 15 days in non-nesting mode on 24/7/19 and his activity was 11 hours.
CFU – no signal.
Kimposter – 10.5 hours activity, usual area SE reserve.
Nick – usual area of Lovell's bush,  12 hours activity.
Ngaro – usual area above the air strip, high activity – 12.5 hours..
Also found two new unknown kiwi –  a male of 1850g, 102.8mm and another, probably a growing girl of 2200g and 116.1mm bill.  They have been named by Ngati Hine "Moeahu" and "Te Orewai" respectively. Moeahu is named after a Ngati Hine Rangatira who strictly ran a kiwi reserve in the area – look out if he caught a poacher!
Cheers Todd
Please note that my email address has changed to: todd.hamilton64@gmail.com
Todd Hamilton
Backyard Kiwi Project Manager,
Whangarei Heads Landcare Forum.
M 021 1145 385
E   todd.hamilton64@gmail.com